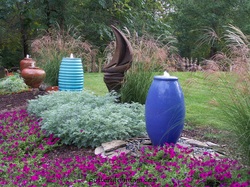 What to expect after you install your disappearing fountain. Disappearing
fountain systems are the lowest maintenance water features you can install.
About the only things we do to maintain them is once per week we treat the water by adding 1 drop per gallon of fountec. Fountec will keep the water clean, clear and mosquito free. Filling the basins with water is as easy as pulling the garden hose over and filling to the top of the grate. Some fountains need toping off every few days others every few weeks. The loss of water is usually caused by splash outside of the fountain collection area, so it's very important to install the correct size basin to match your fountain feature. We find we lose the most water on windy days. An auto-fill valve can also be installed on your water feature. We are the experts on all of these issues and we take all of this into consideration when you buy from us.