Welcome to Boulder Fountain.com
Your Source for Rock Fountain, Pottery Fountain & More

who we are

We have been in business for over 17 years! From our store location we have sold thousands of fountains and water features of all kinds. We offer a beautiful array of products for your home and garden. If you ever find yourself in Virginia stop by and you will see why people drive hundreds of miles just to visit us. If you can't make it here that's ok we ship all over the country. For more info about our retail location follow this link.

http://www.southerngraceva.com/

what we do

We design, build and install fountains of all types. Our prices range from $30 to $20,000. Fountains and water features have been so successful for us we decided to offer them on the web. Whether you are buying a pottery fountain or boulder fountain you can rest assured every fountain we offer is created with care by one of our team of experts.

why buy from us?

When you purchase from us we go with it. You are not ordering from a call center. We don't have a call center and never will. You are ordering from
someone who has made and installed thousands of fountains over the last 17 years. If you need help or just have a question we are here to help and if you are installing your fountain yourself you know how valuable that can be.
Shop this site, click on pages located at top. There you will find pricing & videos

Basalt Fountain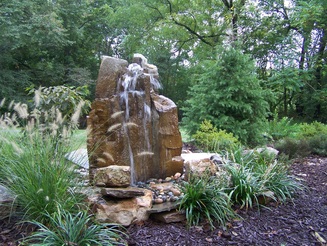 Looking for an easy to install, low cost, do it yourself
Fountain or Water Feature to install in your garden?
Well you just found it!
Did you ever go on a hike in the mountains to a beautiful
waterfall or a boulder strewn mountain stream?
There's just something about water cascading over
rocks that takes you to another world.
Now you can have a piece of that feeling at home.
Our collection of boulder & rock fountains have been selected
for their beauty, low maintenance and ease of installation.


.
---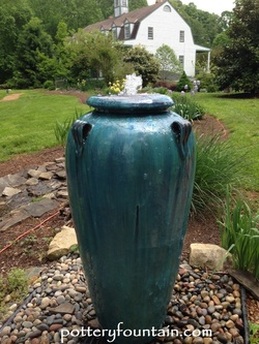 Our Pottery Fountains are the most beautiful collection found anywhere. For over 18 years we have been making and designing all types of fountains and water features. We buy from all the pottery importers across the country. To put it simple whichever importer has the best blue urn then that's where we get our blue urns. The same goes for red, green, teal etc. Our buying volume gets us the best price which we pass on to you. Browse our web-sites and we think you will agree we have the most beautiful collection on the web. We have provided a link into our other web-sites on our contact page. Here is a link into our pottery fountain site
http://www.potteryfountain.com/index.html
---
CLICK ON PICTURE BELOW TO SEE A VIDEO OF MORE INFO ON OUR GFRC BOULDERS. INCLUDING HOW EASY THEY ARE TO HANDLE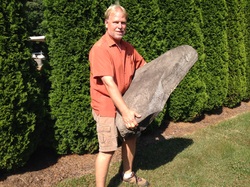 Our Boulder Fountains are Handmade in the USA. Our Boulders are composed of Glass Fiber Reinforced Concrete. These materials are choosen for durability in withstanding outdoor elements.They quickly acquire their own natural patina.They have the look, feel and texture of real rock,with approximately 1/5 the weight. These are the same materials used to create rocks and boulders in zoo exhibits and animal habitats. You can't tell it's not real unless you turn it over. Most of our Boulders work nicely with Disappearing Fountain Basins. They can also be used with Ponds, Pools and Spas.
---
Most if not all of our fountains work well with disappearing fountain basins. Disappearing fountains are easy to install and are very low maintenance. We offer a very large variety of fountain options including, French Olive Jar Fountains, Tuscan Oil Jar Fountains, Bright Colored Urn Fountains, Frog Fountains, Aegean Urn Fountain, Boulder Fountains, Rock Fountains, Stone Fountains, Pebble Fountains, Slate Fountains, Basalt Fountains, Pottery Fountains, Pot Fountains, Swimming Pool Water Features, Pondless Waterfalls, Outdoor Garden Fountains, traditional tiered fountains, pot fountains, pebble pot fountains, ceramic urn fountains, cast stone fountains, basalt stone fountains, bubbler rocks, boulder fountains, glazed urn fountains, pottery fountains, rock fountains, slate fountains, pond less waterfalls, vase fountains, fire fountains, fire and water fountains, soap stone fountains, granite fountain, basalt bowl fountains, wooden bowl fountains, wooden trough fountains, stacked rock fountains, river rock fountains, custom fountains and much more.

WE SHIP 540 948-2239